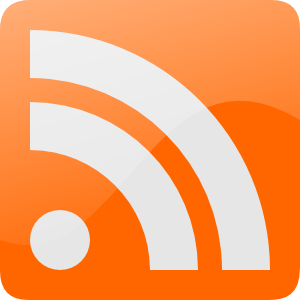 Posted by Brian Gerkey | September 24, 2014

We're happy to announce that videos and speakers' slides from ROSCon 2014 have been posted, and are linked from the program page.

The videos can also be browsed here

Enjoy!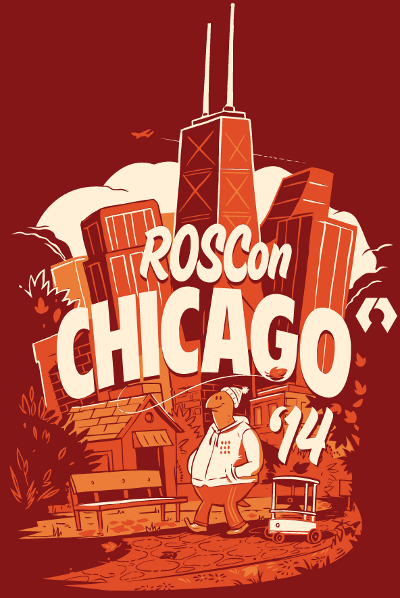 Posted by Brian Gerkey | September 22, 2014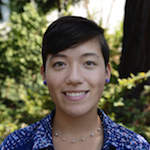 OSRF is pleased to welcome Jackie Kay as a software engineer! Jackie has dreamed of open source robots taking over the world since 2011, when she assisted Prof. Matt Zucker with developing the curriculum for a ROS-based robotics course at Swarthmore College. She has also completed research at the Carnegie Mellon Robotics Institute in autonomous path planning for lunar rovers, mentored by Kevin Peterson at Astrobotic. She graduated Swarthmore in May and spent the summer as an intern at OSRF developing demos and tools for the Baxter Research Robot donated to us by Rethink Robotics. (You can view her work on GitHub.) She is excited to upgrade from intern to fully-fledged software engineer, and hopes this means the company will finally approve her plans for a fully automated beer delivery system using Baxter and a fleet of Turtlebots.
Posted by Brian Gerkey | September 15, 2014

Thanks to everyone for another fantastic ROSCon! It was a fun event, filled with great presentations and discussions, plus many of those, "we've Internet-known each other for years, but are now meeting for the first time," moments. We'll post the videos and slides as soon as we can, linking them from the program page.

Here's the group at the end of the event (thanks to Chad Rockey for being our photographer):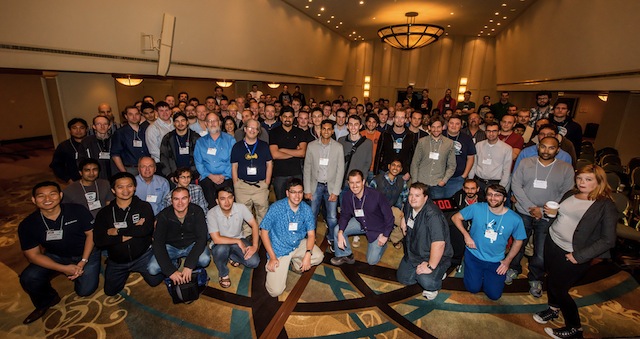 And here's one way to break down the demographics of the attendees, based on their type of affiliation: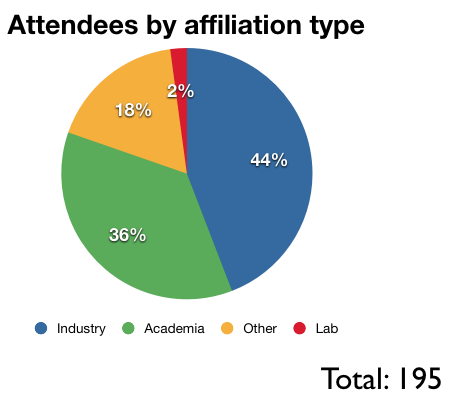 We'd like to thank our generous sponsors, especially: Qualcomm, Clearpath Robotics, Rethink Robotics, and Cruise Automation.
Posted by Brian Gerkey | September 15, 2014

Our friends at RightHand Robotics recently posted more information on how they worked with OSRF and ROS to develop their new ReFlex Hand. We'd like to highlight the fact that OSRF's contribution to the project, which included the controller board electronics, its firmware, and the low-level host-side driver software, is all available under an open source license, in the reflex-ros-pkg repository.

Thanks to Morgan and Gabby for their great work on the project!

To learn more, dive into the code, take a look at the video below, or check out their blog post.
Posted by Tully Foote | September 12, 2014

Roboticists Now Able to Incorporate System-On-A-Chip Capabilities in Robot Designs and Applications

September 12, 2014 — MOUNTAIN VIEW, CA – Open Source Robotics Foundation (OSRF) today announced plans to extend the capabilities of ROS to Qualcomm ® Snapdragon™ 600  processors, a product of Qualcomm Technologies, Inc. (QTI), a wholly-owned subsidiary of Qualcomm Incorporated. Today's announcement is made in conjunction with ROSCon 2014, the annual ROS Developer Conference.  ROSCon runs from Sept. 12-13 in Chicago, IL.  More information on the event is at http://roscon.ros.org/2014/

Via this agreement, OSRF will create and subsequently support a ROS release for Qualcomm Snapdragon 600 processors for both the Linux and Android operating systems.  OSRF will test, refine, and fully integrate support for the ARM instruction set architecture into ROS development efforts.  Once complete, OSRF will perform ongoing maintenance to generally support ROS on Qualcomm Snapdragon 600 processors.

The benefit to the worldwide robotics community working on the lower-power ARM chips means that robots can be smaller, more efficient, and have a longer battery life.

"As adoption of ROS continues to increase, our developer community wants to incorporate the latest computing platforms," says Brian Gerkey, CEO of OSRF.  "Given the intersection between robotics and mobile and embedded systems, we believe that offering Snapdragon's SoC capabilities to our users will be a big hit."

"Qualcomm Technologies is proud to join OSRF and the ROS community to create an official, supported release for Qualcomm Snapdragon 600 processors," said Matt Grob, executive vice president and CTO, Qualcomm.  "We're excited about the potential for future innovation and invention in the robotics community with the combination of ROS and Qualcomm Snapdragon processors."

ROS (for "Robot Operating System") is a collection of tools and libraries that simplify the task of creating and programming robotic platforms and applications.  ROS is overseen by OSRF, who make the OS freely available to any and all users via open source licenses.  Since its introduction in 2007, ROS has grown to become the de facto OS for roboticists all over the world.

Availability

ROS for Qualcomm Snapdragon 600 processors will be available on the Linux OS and is anticipated to be available in Q4 2014 and on the Android OS in the first half of 2015. For more information on Qualcomm Snapdragon processors, please visit, https://www.qualcomm.com/#/products/snapdragon

About The Open Source Robotics Foundation

The Open Source Robotics Foundation (OSRF) is an independent non-profit organization founded by members of the global robotics community. The mission of OSRF is to support the development, distribution, and adoption of open source software for use in robotics research, education, and product development.  More information on OSRF is available at www.osrfoundation.org or by following the company on Twitter @OSRFoundation

Media Contacts:

Tim Smith

Element Public Relations

415-350-3019

Qualcomm and Snapdragon are trademarks of Qualcomm Incorporated, registered in the United States and other countries.  All Qualcomm Incorporated trademarks are used with permission.
Posted by Brian Gerkey | September 7, 2014

Cross-posted from the ROS blog

.

We have an update from NASA's Johnson Space Center (JSC): ROS is now up and running on Robonaut 2 (R2) aboard the International Space Station (ISS).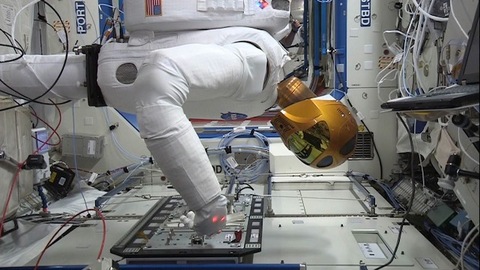 ROS was delivered to ISS aboard a SpaceX rocket as part of a recent resupply mission that also included a set of robotic legs that will be attached to R2 soon.

NASA was able to upgrade the R2 torso earlier this month after on-orbit surgery to remove old processors and electronics and install new ones. On August 12, R2 powered up using ROS for the first time.

As we mentioned in a prior post, the R2 team at JSC has been using ROS for R2 development on Earth for the last couple of years. They combine ROS with OROCOS RTT to produce a flexible development environment with real-time capabilities.

Allison Thackston and Julia Badger from the R2 team will be addressing the audience at ROSCon on the unique challenges of deploying software in space systems. Their presentation, "ROS in Space," will open the second day of the conference. ROSCon takes place on September 12 and 13 in Chicago, IL. For more information and registration details, visit the ROSCon website.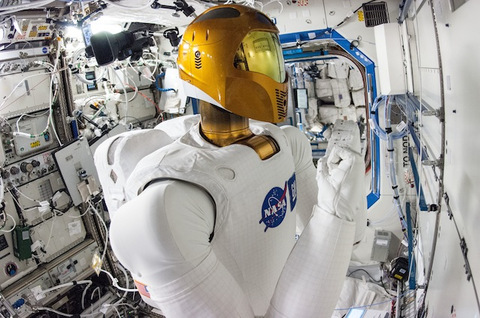 Posted by Brian Gerkey | June 5, 2014

If you were to design the worst possible environment for software engineering, the cramped jump seat of a John Deere tractor would be a contender. The sound and vibration of the engine makes conversation and concentration difficult. If the sun isn't making it impossible to see the monitor, the blowing dust is.

This is a common scenario at Blue River Technology because the company is in the agriculture business.

Blue River

combines computer vision and robotics to deliver precision thinning to lettuce growers.
Blue River has been using ROS since late 2012. According to Willy Pell, Blue River's Sr. Systems Engineer: "We love ROS because it makes it easy to find and correct errors in the worst possible circumstances. Any time something is wrong we know within a few dozen lines of code where the problem is presenting itself. It allows us to build systems The UNIX Way. In other words, we make simple, open source programs that communicate well with other programs."

Blue River makes machines called lettuce thinners. Lettuce growers plant too many seeds because only 80% of seeds actually turn into plants. Since a lettuce head needs 10 inches on either side to get the resources it needs, growers must then thin the field of excess lettuce. Blue River's machine is pulled behind a tractor and takes pictures of the plant seedlings. It identifies the ones to keep and the ones to kill and toggles a sprayer to render its verdict. There is finality to this machine. If it messes up it doesn't just waste time, it impacts the grower's yield.

Added Pell, "ROS has been a fantastic tool for us. I love how you can gut one node and not have it affect the rest of the system. I love how you can break the system apart and test subcomponents. Being able to confidently refactor, test and debug large parts of the system allows us to evolve extremely quickly."
It never ceases to amaze and delight us when we learn of new and innovative uses of ROS. Just recently, ROS celebrated a celestial milestone when it arrived at the International Space Station as part of Robonaut 2. While Blue River's solution is certainly more terrestrial it is no less innovative and impactful. Being able to deliver a precision agricultural solution to farmers means higher yield and fewer chemicals.

Because of the permissive open source license of ROS, we aren't always aware of who is using ROS and for what purposes. In this case, we are very grateful to the team at Blue River for sharing their story with us.

If you are using ROS and have a story to share, please drop us a line at info@osrfoundation.org.
Posted by Brian Gerkey | June 2, 2014
Posted by Brian Gerkey | May 26, 2014

We learned recently from the folks at Avidbots that they're developing ROS-based commercial cleaning robots. Here's their story:

Billions of square feet of commercial floor space are cleaned nightly in the US. Avidbots automates the most time-intensive tasks of retail and storehouse cleaning: sweeping and scrubbing of floors. Powered by ROS, these robots automatically clean floors in grocery stores, airports, and malls, enabling cleaning staff to concentrate on higher value tasks such as window cleaning, dusting, and polishing. The end result? Staff who are better-paid and more productive — a clean win for everyone.

While developing these robots, Avidbots must iterate rapidly through designs. Two key facilitators of this fast development cycle are ROS and Gazebo. ROS's communication system promotes a simple modular design, while Gazebo provides for accurate simulation testing. Modular software design and thorough simulation testing enable Avidbots to achieve its rapid development goals. This strategic use of ROS and Gazebo is significantly accelerating Avidbots' entry into the robotic services space.
Posted by Steffi Paepcke | May 21, 2014