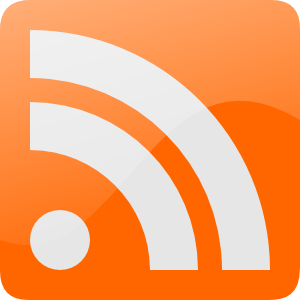 Posted by Brian Gerkey | December 17, 2014

When we started the ROS project back in 2007, our goal was to build an open robotics software platform for students, engineers, entrepreneurs, and anyone else to freely use and modify. In 2012, we took the next step by founding OSRF as an independent non-profit organization to pursue that mission, with responsibility for both ROS and Gazebo. Today, we see these tools used worldwide to teach concepts, solve problems, and build products in ways that we couldn't have imagined at the beginning.

We couldn't be happier with the size and breadth of the collaborative community that we've built together, and we're grateful to everyone in the community for the roles that you've played.

You won't be surprised to hear that it costs money to run OSRF. We employ a small team of amazing individuals, we operate an office in the Bay Area, and we run a suite of online services on which the community depends.

Since our founding, OSRF has enjoyed generous financial support from government agencies and private industry, for which we're very grateful. We hope and anticipate that that support will continue in the future. But now, as we approach the end of OSRF's third year, we're trying something new: asking you, our users, for support.

If you rely on ROS and/or Gazebo in your lab, your startup company, your weekend projects, or elsewhere, please consider donating to OSRF. Your donation will support our people and infrastructure so that we can spend (even) more time developing and maintaining the software and services on which you depend.

As one example, if everyone who visits the ROS wiki between now and the end of the year donates just $2, we'll have our costs covered for next year to manage, update, and host all of our online services, including the wiki. Donations in any amount are welcome. Give more, and we can do more.

Thank you for your support.

Contributions to the Open Source Robotics Foundation, a 501(c)(3) non-profit organization, will be used at its discretion for its charitable purposes. Such donations are tax-deductible in the U.S. to the extent permitted by law.
Posted by Brian Gerkey | December 17, 2014

We're pleased to announce the public release of information on a long-standing collaboration between OSRF and Sandia National Labs. The Intelligent Systems Control Department at Sandia is developing a humanoid robot intended for energy-efficient walking. We're participating in the project by developing an electrical system capable of driving its numerous large motors and interfacing with higher-level software systems. Naturally, our contributions will be released as open-source hardware and firmware. Today's press release from Sandia provides more details, and includes this introductory video:

(You might recall that we also recently built the open electronics and firmware for a new robot hand.)
Posted by Carlos Aguero | December 12, 2014

OSRF is pleased to welcome Rachel Hwang, our intern for the Outreach Program for Women!

Rachel got her B.S. in Computer Science from the University of Chicago. As an undergrad, she worked as a research assistant at the Chicago Language Modeling Lab. With a background in linguistics, Rachel is especially interested in machine learning, natural language processing and all things computational linguistics. As on OPW intern, she will be working on a path planning algorithm for Gazebo. You can follow Rachel's progress on her blog.

Welcome!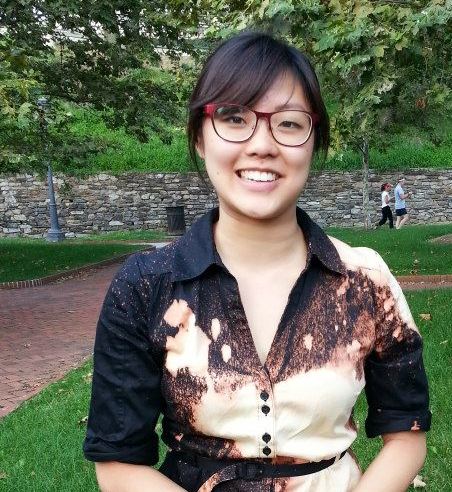 Posted by Steffi Paepcke | October 31, 2014
Posted by Brian Gerkey | October 18, 2014

A couple of weeks ago, we said goodbye to our old office, the original home of OSRF. Now that we're totally unpacked, we can say hello to our new office. It's a old warehouse building that we had renovated into a great R&D space: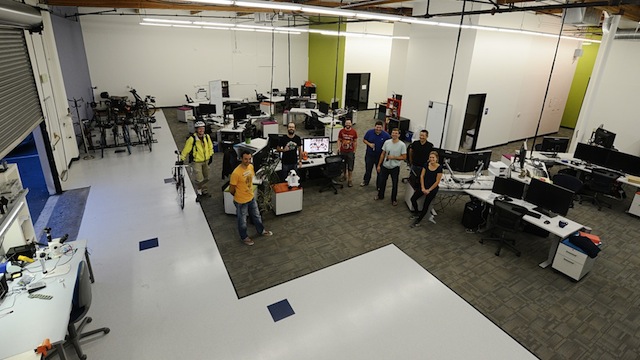 If you're coming to visit, note the new location.
Posted by Carlos Aguero | October 9, 2014

Tashwin Khurana, M.S. student in Computer Science from Lehigh University, worked with OSRF during her internship as part of the Gnome Outreach Program for Women.

Tashwin developed a tool for downloading data from the OpenStreetMap database to produce a corresponding world file for Gazebo. Tashwin focused on importing roads, traffic signals, and buildings.

In addition, she provided support for a new shape type: the extruded polyline. The two-dimensional shape is defined with a series of points that can be extruded to form a solid object. This can be very useful for visualizing buildings and similar constructions.

References:

Repositories:

https://bitbucket.org/osrf/gazebo

https://bitbucket.org/tkhurana/gazebo

https://bitbucket.org/tkhurana/sdformat
Posted by Brian Gerkey | October 6, 2014

Since July 2012, OSRF has lived happily in Mountain View in our office on Shoreline Boulevard. In the intervening 2+ years, the team has expanded and now we've outgrown that building. Today is our first day in our new office, which is twice the size of the old one and a bit more professionally appointed. We're still in Mountain View, now on South Whisman Rd

Last week, we said goodbye to the old office by raising a glass, lowering a flag, and reminiscing about the last couple of years. (We'll post pictures of the new place after we've finished unpacking.)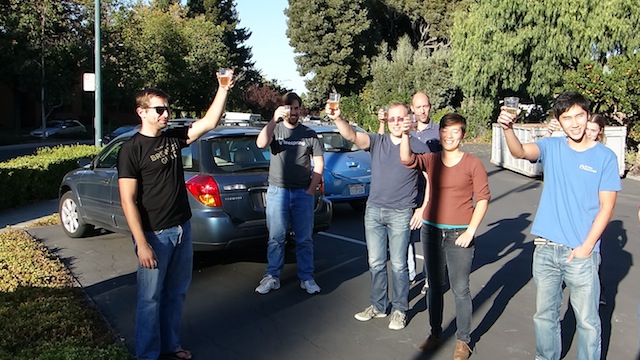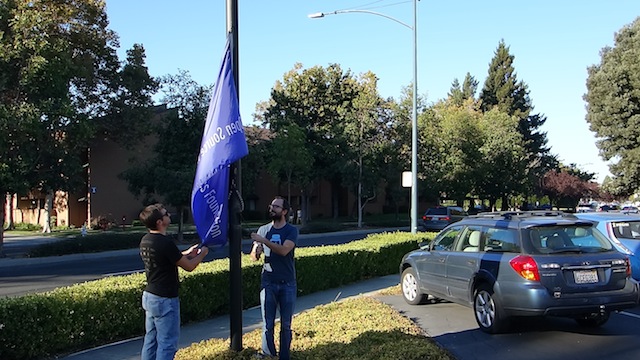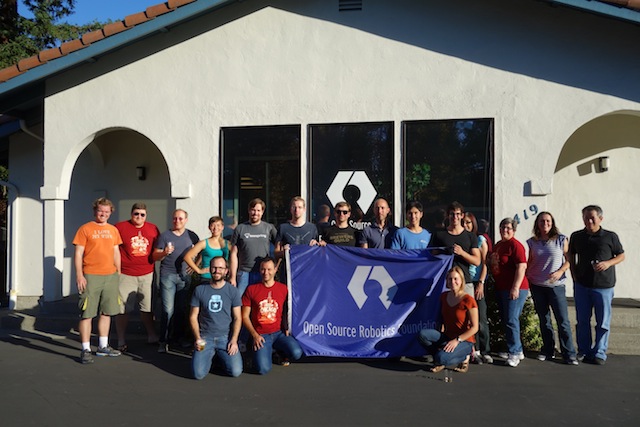 Posted by Brian Gerkey | September 24, 2014

We're happy to announce that videos and speakers' slides from ROSCon 2014 have been posted, and are linked from the program page.

The videos can also be browsed here

Enjoy!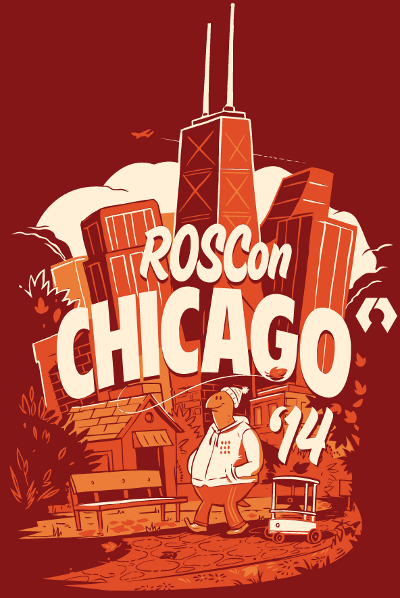 Posted by Brian Gerkey | September 22, 2014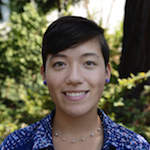 OSRF is pleased to welcome Jackie Kay as a software engineer! Jackie has dreamed of open source robots taking over the world since 2011, when she assisted Prof. Matt Zucker with developing the curriculum for a ROS-based robotics course at Swarthmore College. She has also completed research at the Carnegie Mellon Robotics Institute in autonomous path planning for lunar rovers, mentored by Kevin Peterson at Astrobotic. She graduated Swarthmore in May and spent the summer as an intern at OSRF developing demos and tools for the Baxter Research Robot donated to us by Rethink Robotics. (You can view her work on GitHub.) She is excited to upgrade from intern to fully-fledged software engineer, and hopes this means the company will finally approve her plans for a fully automated beer delivery system using Baxter and a fleet of Turtlebots.
Posted by Brian Gerkey | September 15, 2014

Thanks to everyone for another fantastic ROSCon! It was a fun event, filled with great presentations and discussions, plus many of those, "we've Internet-known each other for years, but are now meeting for the first time," moments. We'll post the videos and slides as soon as we can, linking them from the program page.

Here's the group at the end of the event (thanks to Chad Rockey for being our photographer):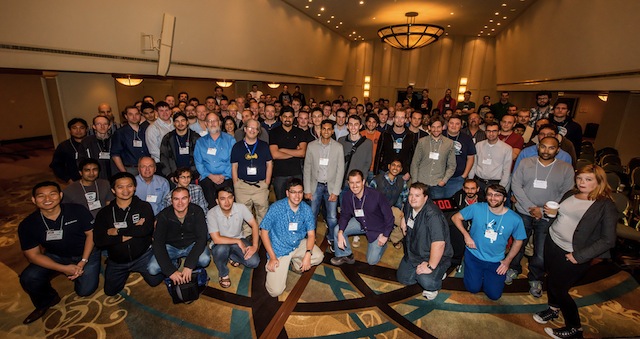 And here's one way to break down the demographics of the attendees, based on their type of affiliation: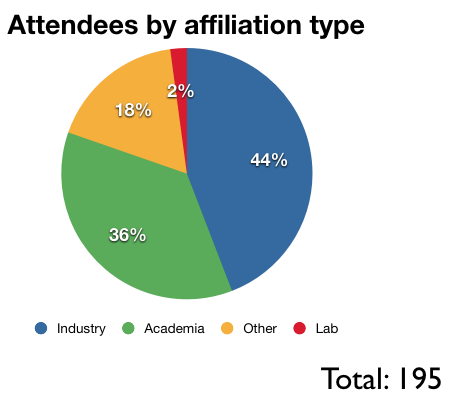 We'd like to thank our generous sponsors, especially: Qualcomm, Clearpath Robotics, Rethink Robotics, and Cruise Automation.