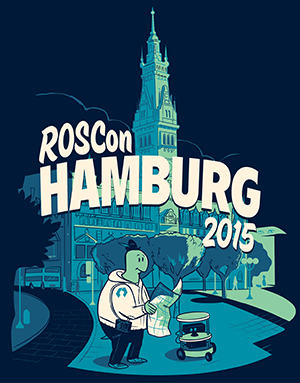 This year's ROSCon is nearly upon us. If you haven't yet made plans to get yourself to Hamburg, then you are out of luck as this year's ROSCon has sold out. The good news is that we are live streaming ROSCon presentations free of charge, courtesy of Qualcomm.
Click here for the live stream beginning 9:00 a.m. CEST, 2015, 12:00 a.m. PDT or 3:00 a.m. EDT on October 3, 2015.
All sessions will also be recorded and made available for viewing in the near future. Follow @OSRFoundation for announcements about their availability.
A final thank you to Platinum Sponsors Fetch Robotics and Ubuntu; Gold Sponsors 3D Robotics, Bosch, Clearpath Robotics, GaiTech, Magazino, NVIDIA, Qualcomm, Rethink Robotics, Robotis, Robotnik, ROS-Industrial, Shadow Robot Company, SICK and Synapticon; and Silver Sponsors Erle Robotics and Northwestern University, McCormick School of Engineering.
Check out the program here.
If you're attending in-person, we look forward to seeing you soon!